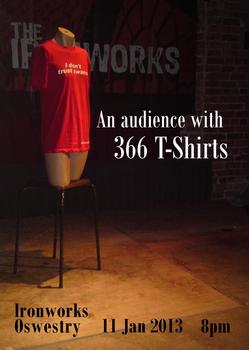 With over 300 t-shirts now blocking out a considerable proportion of daylight in his spare bedroom, Neil Phillips is close to finishing the year-long art installation, 366 T-shirts.
For each day of 2012, he has been wearing a fresh t-shirt with a different slogan, a living tableau of his day-to-day struggles over the soaring price of gas, the staggering wages of premiership footballers, and the mounting pigeon droppings on his front doorstep.
Having raised many burning questions and issues in his year-long blog on a shirt, such as 'Am I on the right tariff?' and 'Whatever happened to Lincoln biscuits?', he will attempt to answer some of them in a one-night only project review.
In 'An Audience with 366 T-Shirts', Phillips will display and discuss his collection of t-shirts through audience Q&A, impromptu interviews, Powerpoint presentation, film and a musical tribute to the project. It takes place at the Ironworks, Oswestry, on 11 January 2012 from 8pm.
Meanwhile, you can join him as he counts down the final t-shirts at www.366tshirts.co.uk, and sign up for feeds via Twitter (@366tshirts; #366T) and Facebook (www.facebook.com/366tshirts).