Clothes rails, brushed cotton, mint imperials and PowerPoint. Sounds more like a sales convention at GAP than the half-way review of an art project.
Welcome to the perverse yet pedestrian world of 366 T-shirts, the Shropshire-based art project which recently marked its mid-point with an event at the Ironworks in Oswestry.
Pork pies, cold meats, scones, Stilton and crusty white cob, all locally sourced, took pride of place alongside polymer clay modelling, multi-screen projection, sit-down comedy and music on vinyl.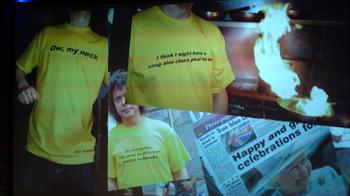 Centre-stage was a rail of 182 t-shirts from the first six months of the project in which Neil Phillips is 'painting' his view of the world on a t-shirt for each day of 2012.
A confusing spectacle for the uninitiated, it all made perfect sense to those who have been following the project via Facebook, Twitter or the website, www.366tshirts.co.uk
As well as the shirts and sausage rolls, the Half Way event provided plenty of other entertainment.
Film promoters, Kinokulture, equipped the room with four screens running loops of t-shirt images created by 366 T-shirts website designer, Tom Perry. The evening also spawned a new screen icon, Bruce Thunder, the mustachioed star of a 366 T-shirts promo film made by young Shrewsbury-based film makers, Trigpoint Studios. Witty, well-crafted and with some impressive post-production trickery, it was played several times in response to popular demand – take a look:
Oswestry market provided the setting for another short film shown at the event, 'I'll tell the police what I'm doing'. Neil Phillips also experimented with a new genre of comedy, sit-down PowerPoint which saw him ad lib his way through a slide-show of the project so far. DJs from the People's Vinyl Collective (PVC) provided music.
Art and local cheese sums up the spirit of 366 T-shirts. Occasionally questioning its artistic credentials – see t-shirt no 012, 'This is not art' and no 173, 'I'm at the spitting edge of art' - it pursues laughs and localism in preference to any intellectual preciousness over credibility. Hence, the Half Way evening took great pleasure in showcasing the local crafts and talent supporting the project just as much as the t-shirts themselves.
The buffet included bread from Smith's Bakery, cheeses from Radfords Fine Foods, cakes from Radio Café, savoury pies and meat from Battams Butchers, and food accompaniments from Enid & Tina's Cornershop in York Street. Meanwhile, Amanda McGregor of Bright Beadz, 366 T-shirts' official stockist, gave a demonstration of polymer clay jewellery modelling. There was also a corner dedicated to Oswestry community and culture focused magazine, IheartSY.
Billed as a community event, it also succeeded in attracting a cross-section of people from different areas of Oswestry, including the arts, business and council.
An exhibition of 366 T-shirts is planned for early 2013.