As the New Year looms, the final threads are unravelling in the year-long art installation, 'A T-shirt for every day of the year', also known as '366 T-Shirts'.
During 2012, Shropshire creative, Neil Phillips, a fan of vinyl records, loose leaf tea and locally baked bread, has gone 'analogue' and blogged daily to the world on a t-shirt.
For 366 consecutive days, he will have worn a different t-shirt with a different slogan - a living tableau of his day-to-day struggles over the soaring price of energy, the staggering wages of premiership footballers,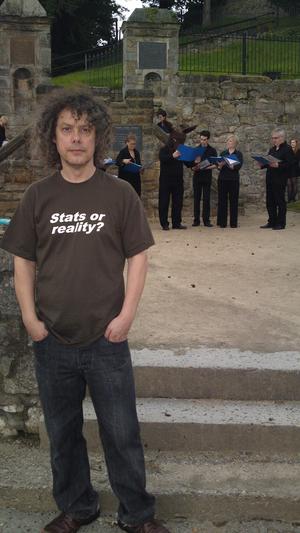 and the mounting pigeon droppings on his front doorstep.
Far from manufactured (as with 'I'm with stupid'), the slogans have been 'cut and pasted' from personal and observed conversations. They have formed a surreal, anarchic and often incisive sub-text to Phillips' daily routine at home, at work, in cafes, shops, banks, school governor meetings, weddings and funerals.
And while the project is partly a reaction against the sterile experience of on-line culture (eg, t-shirt no 86 'I spit on your app'), each shirt has been posted at the stroke of midnight on the website – www.366tshirts.co.uk - and simultaneously shared with the world via Twitter and Facebook.
On December 31, the installation will be complete. The apparently unordered rants and musings of the shirts will crystallise into a curiously lucid dissection of Cameron's Britain in a year that has perfectly showcased 21st century British culture – from the hype and extravagance of the Diamond Jubilee and London Olympics, to the endemic grip of media power, institutional paedophilia, corporate tax evasion, flooding, drought, reality TV, norovirus and ash tree dieback.
Having raised many burning questions in his year-long shirtcast, such as 'Am I on the right tariff?' and 'Whatever happened to Lincoln biscuits?', Phillips will attempt to answer some of them in a one-night only project review.
In 'An Audience with 366 T-Shirts', he will display and discuss his collection of t-shirts through audience Q&A, impromptu interviews, Powerpoint presentation, film and a musical tribute to the project. There will also be soup.
The evening takes place at The Ironworks, Oswestry, on 11 January 2012 from 8pm. Meanwhile, you can see his t-shirt collection at www.366tshirts.co.uk.