Most people will have a rant about the cost of living, overpaid footballers and the trials of parenthood over a beer in the pub.
Not Oswestry's Neil Phillips. Better known for his music projects (Eclectic, PVC, Awesome Zombie Ants, Supermarket among them), he is currently 'posting' his thoughts, observations and frustrations about life on a series of t-shirts – 366 of them, to be precise.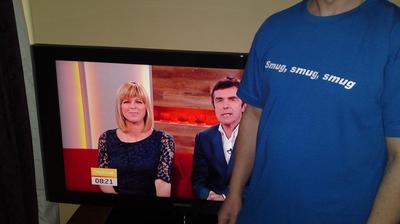 Since January 1, he has been wearing a different t-shirt with a different 'slogan' every day as part of an on-going art project, 'A T-shirt for every day of the year '. And he will continue to bear his soul on brushed cotton for the whole of 2012. You can catch up on the project at http://366tshirts.co.uk
Follow him as he despairs at the smugness of celebrities, the rising price of Thin Arrowroot biscuits, and his failure to raise a good crop of vegetables.
The website has an archive of t-shirts worn to date, an explanation of the slogans, the story behind the project, and a photo-diary tracking the t-shirts day-to-day. You can also get feeds via Twitter (@366tshirts; #366T) and Facebook (www.facebook.com/366tshirts).
An exhibition of the t-shirts is planned for next year.