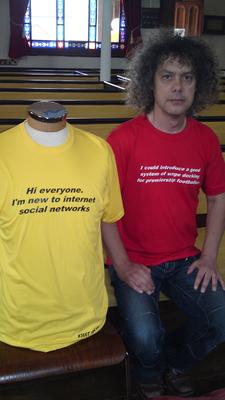 In a year when Britain's streets have been festooned with banners and bunting for the Diamond Jubilee and 2012 Olympics/Paralympics, Hermon Chapel flew the flag in its own unique way for the recent heritage open days.
T-shirts from Oswestry art project, 366 T-shirts, were strung across the 1860s, grade 2* listed chapel's airy and inspiring space, making an intriguing counterpoint to the ecclesiastical architecture.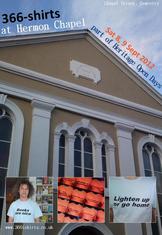 Built for a non-conformist congregation to a cutting edge design for its time, Hermon's pairing with the quirky 366 T-shirts project is perhaps not so unlikely.
Certainly, owners Duncan and Julie Kerr are keen for the chapel to push the envelope again as they restore it for contemporary use – for art exhibitions, music, performance or simply as a meeting place for groups and organisations.
The couple are hoping that Hermon's will be up and running by Spring 2013, and welcome enquiries to: hermonchapel@hotmail.co.uk
Arguably Oswestry's sweatiest art installation of the year, 366 T-shirts sees Neil Phillips undertake a year-long 'blog on a t-shirt'. For each day of 2012, he has been wearing a different t-shirt with a different slogan, painting a picture of his struggles with rising food prices, a celebrity obsessed media and a failing vegetable plot besieged by slugs and cats. See him suffering at www.366tshirts.co.uk
Watch out for news of the 366 T-shirts end of project revue, which is being billed as 'an evening of local laughs, light refreshments and the airing of a lot of dirty laundry.'