In some ways, 'A t-shirt for every day of the year' is a bit of a backlash against digital culture. Also known as '366 T-shirts', the project sees Oswestry creative, Neil Phillips, wearing a different t-shirt with a different slogan for each day of 2012.
It's part protest, part diary, part wry observation, part winge about life in recession- and Cameron-bitten Britain. 'Get me off the grid', 'Premiership footballers could fund the education system', 'Don't touch my head when I'm eating'. It also advocates life in the real world, less in the virtual world of Facebook, Twitter, etc. 'This is better than a blog', 'I'm having peanuts and toast', 'Twitter or T-shirts?'. Park the character you have created for the screen-bound, 24/7 connected e-universe. Pasting your view of life on t-shirts is a way of anchoring identity back in the physical world, complete with the blood, sweat, tears and bolognese stains of 9 to 5 life.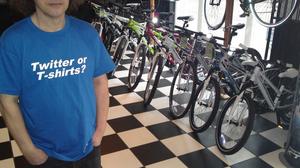 Rather than competing for air-time in the communication mash-up of the internet, Neil Phillips is sitting in 'Radio' café with a Single Estate Ceylon tea and a t-shirt under his coat saying, 'You're not in charge'. For all its bizarreness, '366 T-shirts' is a personal crutch, a 21st century comfort blanket, an off-the-peg mantra, keeping the wearer grounded, centred, sane.
But 366 T-shirts is not a wholesale rejection of digital culture. The project has a website (366tshirts.co.uk), designed by Oswestry's Tom Perry. At midnight, it automatically posts up, tweets and Facebooks the day's t-shirt with an explanation of the slogan. There's a t-shirt archive to review the 366 wardrobe so far. And there's a photo diary plotting the day-to-day story of the project and providing a cultural excursion of Oswestry, including web links to local music, arts and businesses.
Locality is an important part of 366 T-shirts. As you browse the web diary, you build a picture of a life in context - buying chips from Wot's Cookin, playing vinyl at the Ironworks' PVC night, inspecting frogspawn on Oswestry Racecourse. It could be an eccentric online shop window for Oswestry, a quirky marketing concept ('Oswes-T: let's start a conversation'), the type of curve-ball inspiration which towns may need to harness in pursuing Mary Portas' vision of high street revival. Well, probably not, but it's the sort of creative annex we need to explore in stretching the web around the challenges of local economies.
We should spend less time trying to make our mark on global, virtual culture, and more time adding value to real, local culture. This includes using IT and the web creatively. Then we can build a sense of identity, community and creative expression that will sustain the place where we live.