When you can go viral on the web in the flicker of a VDU, why would you start a conversation with the world on a t-shirt?
That's essentially what Neil Phillips is doing in the art project, 'A t-shirt for every day of the year', aka 366 T-shirts. This musician and creative based in Oswestry, Shropshire (UK), is wearing a different t-shirt with a different phrase for each day of 2012.
As the project approaches half way, unwittingly, a multi-layered plot of themes, motifs and sub-texts is unfolding. Note the reference to 'unwittingly' as the words on the shirts have been taken, unedited, uncontrived, from real life conversations. Some have been overheard, but most are 'cut and pasted' from Neil's interaction with his family.
These are not your stereotypical t-shirt slogans ('I'm with stupid', 'I'm a virgin. This is an old t-shirt', etc). They're a slice of life in 2012; the soapbox, diary, blog-on-the-chest of an individual struggling with the rising cost of living, the gratuitous self-indulgence of celebrity, and an unruly four-year-old. 'They're shoving water in it', 'Get me off the grid', 'Don't touch my head when I'm eating'.
Day by day, the t-shirt narrative is gaining momentum as it grapples with issues as big as sustainability and supermarket domination, and as small as deciding what's for tea and who should clean the fridge. 'Give me the stats', 'Am I on the right tariff?', 'Bring your gorilla and go to the bathroom.' In a 21st century take – at a stretch - on Edvard Munch's 'The Scream', brushed cotton now provides the canvas for the depiction of the human condition. 'Maximum stress at all times', 'I've got a migraine', 'I need help.'
But 366 T-shirts is about other issues, too, such as identity and communication in our 24/7 connected world.
With the means to self-publish and self-promote instantly on Facebook, Twitter, YouTube, blogs and other social channels, millions of personalities have been launched into the virtual ether. Networking their lives, notching up friends; trading opinions, ideas, philosophy, insults, mutual admiration; conversing through threads and likes of likes of likes of likes, in a vast digital coitus.
Yet all of this global connectivity, this on-line community, is remotely driven from a position of disconnection.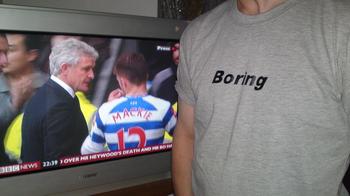 As we send and post our on-line messages, texts and tweets – from bedrooms, cafes, cars and park benches - it's as if accountability for their content defaults to the great chamber and self-jurisdiction of webdom, detached from real feelings and real people.
The protocol of communication has gone. We submit our thoughts and emotions to the ether before they are barely formed. Distracted by the functionality of the gadgetry that transmits our messages, we have become de-sensitised to the subtleties required in how we communicate. We sack people by email, dump friends in a text, tell tales on Twitter, grieve on Facebook by the death-bed of a loved one.
366 T-shirts is a bid to wrest back a tangible sense of individuality, to construct a public but intimate space for thoughts and feelings outside of Facebook and the power-on button. Words that can be brandished like a revolutionary to the world or nursed like a crucifix under a jumper.
In an age when culture is filtered through a myriad of screens, 366 T-shirts is a yearning to have something physical. To get music on vinyl rather than download, to buy from the local market not off the internet, to have a physical connection with the world which leaves a sensory imprint on the memory. Like the first slice from a loaf of warm, fresh bread; the stain from a squashed fly on the cover of a favourite album; the coldness of a school exercise book just brought in from the teacher's car.
While people consign hours of their life to Facebook, we should remember it's nothing more than a clever little database making big bucks for its stakeholders. Facebook existence is like doing someone else's garden – it could be paved over and erased overnight, burying millions of life stories and relationships with it , leaving thousands of e-gardeners without their virtual patch to potter in. How nice it is to own, wear and hang up your view of the world at night in the safety of your wardrobe.
Committing your thoughts and opinions to a t-shirt is an act of liberation, a way of salvaging your identity from the transient existence of digital feeds and orderly disembowelment of Facebook's Timeline. It's a way of saving your e-soul from the viral insemination of the web – messaged, tagged, invited, liked, unliked, tweeted, retweeted – ravaged by technology as you sleep at night.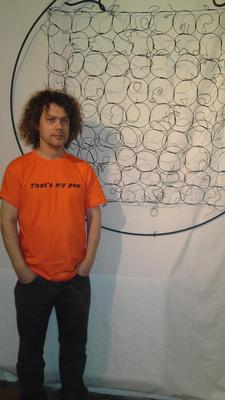 As his superiors at work strategise about performance, outcomes and deliverables, Neil Phillips is wearing a t-shirt under his jumper with the words 'You're not in charge' (a slogan actually based on the power struggle with his four-year-old son).
'366 T-shirts' is a new religion for the excommunicated and disillusioned, wash and wear rehabilitation for the overlooked and side-lined. Psychoanalysts in Beverley Hills will soon be recommending T-shirt therapy to film stars and celebrities: 'Where's my agent?', 'Botox my bat wings', '$2 million an episode or kiss my ass'.
Even though it questions the growing domination of digital connection (including day 86 t-shirt, 'I spit on your app'), there is a website giving access to the project as it unfolds - www.366tshirts.co.uk. Designed by Oswestry's Tom Perry, it automatically posts, tweets and Facebooks each new t-shirt with an explanation of the slogan. There's also a photo diary plotting the day-to-day story of the project and providing a cultural excursion of Oswestry, including web links to local music, arts and businesses.
'A T-shirt for every day of the year' will go on exhibition in 2013.