It's hard to imagine that a collection of t-shirts could hold the attention of an audience for two hours.
But in a small market town where only tribute acts or pub brawls are likely to draw a crowd on a wet winter's night, Neil Phillips and 366 soiled t-shirts managed to pack out the Ironworks in Oswestry on a damp Friday in January.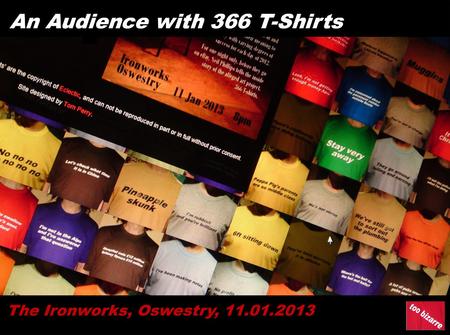 Having worn a t-shirt with a different slogan for each day of 2012, Phillips reviewed his completed t-shirt installation in 'An Audience with 366 T-shirts', a unique evening of fabric and frivolity.
Bumbling, apologetic and probably unrehearsed, nevertheless, he kept the eager audience gripped with anecdotes and insights into his year-long 'blog on a shirt'.
Indicative of a man with no sense of direction (t-shirt 229 'I want to get to a big road'), it was a somewhat rambling tour of the project with Powerpoint slides, videos, and a bowl of soup/stew.
We learnt of the challenges of taking photos for the website diary, including migraines, bad hair days and photos snapped unimaginatively in front of airing cupboards and wheelie bins. We discovered the definition of a downstairs towel, learnt about the burgeoning market for mini-size, over-packaged snack food, and enjoyed a layman's guide to the 2012 gardening season.
We were also introduced to some of the testosterone-pumped gang members from Mexico, Greece and Brazil who became friends of 366 t-shirts following a £10 advertising campaign on Facebook. Purportedly sent to some 80 million Facebookers worldwide, 366 T-shirt 'likes' resulting from the promotion peaked at 497.
Phillips even squeezed in a song – the March t-shirt slogans spoken over a boppy slice of electronica which delivered the memorable opening line 'I've got a bulbs bag. Smug, smug, smug.' Not since the Stretch Jersey Fetishists' Reunion of 1996 has so much fun been had with brushed cotton.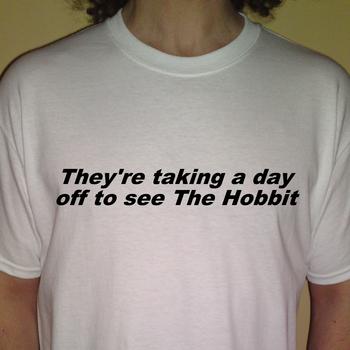 A Q&A session at the end allowed the audience to drill Phillips for more detail. Which t-shirt had he least liked wearing, had he slept in them, would he be auctioning them for charity?
There was also keen interest in the 366 Annex. Here, for a voluntary contribution of 50p, visitors could view over 300 slogans that did not make the final t-shirt cut. Outtakes included 'I'm sick of toast', 'Bowie's been wrecked by dentistry' and 'I've got the same pants on again'.
Finally, the stars of the show, all 366 original t-shirts were also on exhibition for the first time.
Other stars of the night were Tom Perry, the 366 website designer, and Oswestry's cinema/film people, Kinokulture, who contributed projection content and undertook the audio-visual staging. Radio Café and Smiths Bakery laid on the food, while 366 stockist, Brightbeadz, looked after merchandise.
In the ascendant
Also in the ascendant were young film makers, Ashley and Tom of FilmGrade, whose very slick 366 vox pop tribute was premiered on the night. These are the talented team that created Neil Phillips' no 1 celluloid fan, Bruce Thunder, for the 366 Half Way Event last July. Their 30 seconds promo for the 'Audience With' event was also used to kick off proceedings.
Featuring admiring critiques of the project, FilmGrade's video was possibly a toe-curling three minutes for the mild-mannered and unassuming Phillips. Indeed, he exhibits so little ego that he gave most of his presentation sitting on the edge of the stage, then crouched on the floor.
Self-doubt and self-deprecation is a theme, intertwined with many others, running through the 366 project: 'One art wonder', 'I'm no one', 'I'm at the spitting edge of art', 'I need help'. The self-abasement continues in the Annex – 'T-shirt suicide', 'On Thursday, I'm going to phone the Tate' and 'I've always been on the fringe.'
This is a man inspired yet deflated, an artist teetering on the picket fence of creative exuberance and crippling unworthiness, sticking pins in his own balloon of invention while he goes blue in the face blowing it up.
That he wore and confronted people with his art for a year is an achievement. It's also a sign that, in a world where bankers, high fliers, divas and corporate liars blag, bully and bawl their way to the top, little people can make themselves heard. The meek may still inherit the earth.
More at the 366 T-shirts website - www.366tshirts.co.uk
See also John Swogger's review on the Inside Out Arts Group website:
http://insideoutart.co.uk/2013/01/12/366-and-counting/